Frequently Asked Questions
What are your pumpkin picking hours?
---
Our pumkin picking hours are from 10am-6pm with the last hayride going out to the patch at 4:30.
---
What is the All You Can Carry for $20?
---
All the pumpkins (you pick from the field) one person can carry in their arms and take 3 steps. Check out our video!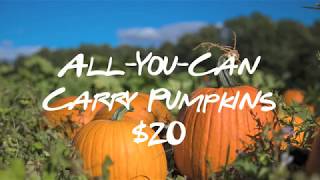 ---
Do I have to do the All You Can Carry?
---
No, pumpkins are individually priced from $4 - $20 depending on size.
---
Can I bring my pet to the farm?
---
Any other time of the year we love to see your fur babies, but during October we ask that you leave them at home.
---
How much does the hayride cost?
---
Hayrides to the pumpkin patch are always free!
---
What activties do you have for kids?
---
We have FREE hayrides to the pumpkin patch

3D Boo House - No scary stuff! Perfect for the little ones -$3
Fort Pumpkin - Open on Satrudays and Sundays ONLY -$7
Unlmited Fun Pass- Purchase both tickets for the 3D Boo House and Fort Pumpkin and go though both activies as many times as you would like! - $10
Ticket sales for Kids Activites stop at 4:30pm on Saturdays & Sundays
Fort Pumpkin is ONLY open Saturdays and Sundays.
3D Boo House is open weekdays and weekends starting at 10am
---
What forms of payment do you accept?
---
We accept Cash, Visa, Mastercard & Discover.
---
Is there any food available?
---
The Donut Shop is open on Saturdays & Sunday from 10AM - 5PM. There are freshly made donuts, hotdogs, corn dogs, french fies, hot chocolate, hot & cold cider, coffee, soda & water.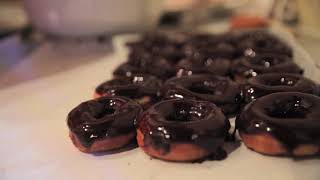 ---
---